Modern Warfare's PC trailer is pretty, ultrawide
If the aspect ratio of the trailer seems a little off, that's because its captured to look cooler on an ultrawide monitor. The trailer itself doesn't show anything we didn't already know, but it's nice to see Call of Duty embracing its PC version with uncapped frame rates, multi-monitor support, and an FOV slider.
How does Call of Duty: Modern Warfare's crossplay work?
Call of Duty: Modern Warfare marks the first time the franchise completely supports crossplay for PC, PS4, and Xbox One. Since every game handles crossplay a little differently, Infinity Ward took the time to fully explain how it works in Modern Warfare.

First of all, crossplay is completely opt-in. If you enable it, you'll need to link a Call of Duty account to form a platform-agnostic friends list, not unlike the Epic friends lists in Fortnite. Crossplay is supported in all multiplayer modes except Ranked and competitive tournaments.

In the pre-game lobby, every players' current control scheme (controller or mouse and keyboard) is shown next to their name. By default, you'll only be matched with the same control type, but you can remove this filter to play with all input methods. Of course, grouping up with a friend using a different control input will also remove this filter.

Setting your matchmaking preferences to only allow other keyboard and mouse users doesn't mean you'll only match with PC players, though, as both console versions will fully support keyboard and mouse. Controller users might feel naturally inclined to lock out mouse users with more aim control, but Infinity Ward is confident that Modern Warfare is balanced across all input methods.

"Not only have we spent a ton of time balancing and making sure the playing field is level between the control schemes, but also, you know, a ton of surprising user tests where we're looking at high-skill user tests and seeing a mix of those control schemes in the top three every time," production manager Paul Haile said.

Crossplay beta tests have gone well so far, it sounds, with a lengthy but not total list of identified issues posted by Infinity Ward.
Watch Modern Warfare's gritty campaign trailer
The new trailer is the public's first good look at Modern Warfare's campaign. The story seems to be more character-based this time around, instead of dwelling on a hard-to-follow plot of intrigue, betrayal, and uncomfortable depictions of terrorist attacks. Oh, I'm sure this will have those too, but at least we'll know our characters' names by the end.
Infinity Ward has also released a new behind-the-scenes trailer on the creation of the campaign. The video below takes a broad approach, examining some of the
narrative strokes (superpowers fight via proxies in the fictional nation of Urzikstan), and also some of the talent Infinity Ward consulted (war correspondents, former soldiers). Whether the story manages to be as complex and nuanced as Infinity Ward seems to want, we'll have to wait and see.
What we know about the singleplayer campaign
The campaign will feature missions in a number of European cities as well as the Middle East. In addition to playing as special forces soldiers armed with high-tech combat gear, players will also take the roll of "rebel freedom fighters" who use improvised weapons like molotov cocktails and IEDs, and have to rely on guerrilla tactics to defeat Tier One enemies.
One Modern Warfare singleplayer campaign mission we saw a demo of takes place in North London after a terror attack in Piccadilly Circus. SAS teams infiltrate a townhouse to eliminate a terrorist cell, hunting for the cell's leader, known as The Wolf. Another mission shows the origin story of Farah, a rebel freedom fighter whose town was bombed and invaded by Russian military forces when she was a child.
Spec Ops mode is back, and there's a trailer
This is our first good look at Spec Ops mode, which supports 4 players this time around. The trailer is mostly out of context flair, but there is one highly recognizable bit towards the end. We see a few scenes of what looks like an homage to Mile High Club, a bonus Call of Duty 4 mission played after the campaign's credits that takes place in a plane mid-flight.
Can I just watch the trailer already?
Sure thing! You can watch the Call of Duty: Modern Warfare announcement trailer above.
Modern Warfare 2 remastered still isn't confirmed, despite PEGI rating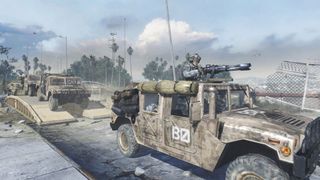 After a PEGI rating showed up in March for a Modern Warfare 2 Campaign Remastered, fans have assumed that the new remaster will be packaged with Call of Duty: Modern Warfare. This would mirror the way Call of Duty 4's remaster released alongside Call of Duty: Infinite Warfare in 2016.
Yet, we're a few months from launch and Activision hasn't said a peep about a MW2 remaster. There's still strong evidence that it's coming, but we can't be sure it'll come alongside this year's game.
Modern Warfare uses a new engine and supports ray tracing
Modern Warfare will support DirectX Raytracing (DXR) on PC. And that means we can surmise that Activision and Call of Duty will be working with Nvidia and the GeForce RTX cards to support the feature. Ray tracing will even be used for audio. In a press briefing, Stephen Miller, Audio Director for the game said, "With the weapon reflection system, it uses ray tracing out into the environment and plays three sounds at point of impact. So as you're running around you actually get different sounds constantly as it behaves with the geometry."
Supporting DXR means that Activision/Infinity Ward is upgrading the IW engine to support DirectX 12, since that's a requirement for all games that support DXR. We'll have to wait and see how that effects performance once Modern Warfare launches, as traditionally DX12 engines have favored AMD hardware.
This isn't an Epic Games Store exclusive, is it?
No, of course not! Don't be silly. It's a Battle.net exclusive, just like Call of Duty: Black Ops 4. There are three options, the $60 standard edition, the $80 operator edition (with premium digital items) and a $100 operator enhanced edition (which includes the digital items plus includes 3,000 Call of Duty points)